AARCH Society Leadership Team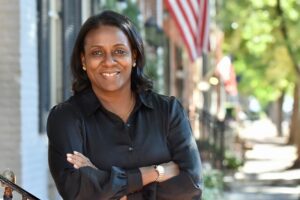 Protean Gibril – President​
A member of the Board of Directors and chair of its Growth and Development Committee, Protean Gibril was named AARCH Society President in 2022. A U.S. Air Force veteran and Senior Analyst and Brand Manager for a large Federal agency, Protean has more than 35 years of experience and leadership in strategic planning and achieving organizational goals, business transformation/process improvement efforts. Protean studied art design and art history, earning a bachelor's degree from North Carolina Agricultural and Technical State University. Active in the community, Protean has served as Vice President for Jack and Jill of America, Inc., Western Maryland Chapter. She currently lives in Mt. Airy, MD.
Seaven Gordon – Vice President​
Former owner of Gordon's Transportation for 20 years after retiring from Alpha Portland, Seaven, a U.S. Army veteran, has been a civil rights advocate and local community activist for many years. The President of the Frederick Chapter of the NAACP for four years and Vice President for 16 years, Seaven was also a founding member and board member for 50 years of Friends For Neighborhood Progress/Community Action Agency. Seaven has served AARCH Society for 20 years, including as a member of the Growth and Development, Ad Hoc Facility and Gala Committees.
Barbara Thompson – Secretary​
A retired principal's executive assistant with Frederick County Public Schools, Barbara served as President of the Frederick Association of School Support Employees. She joined AARCH Society in 2012 and, along with her current role as Secretary of the Board, she serves on many of the AARCH Society Board and Task committees. Barbara is the coordinator of the AARCH READS program and Living Treasures and was production assistant of the documentary "Tale of the Lion." Barbara is also the AARCH Society Representative for Frederick Historic Sites Consortium and for the 275th Frederick Anniversary.
Zolinka McCauley - Treasurer​
A lead Program Analyst for a large government agency, Zolinka has more than 20 years of experience in financial services and the government sector. She has worked as a project manager supporting various initiatives, including the rollout of product and services, training, technology, and facility and infrastructure projects and has been responsible for the management of large-scale project budgets. Passionate about serving in the community, she has been with AARCH Society since 2020, serving in the role of Treasurer and Chair of the Finance Committee. Zolinka holds an MBA from Baruch College and a bachelor's degree in finance from Binghamton University.
AARCH Society Board of Directors
AARCH Society is grateful to our board members who volunteer their time and talents to promote our Mission and Vision.
We would like to call attention to our Legacy Council and thank them for their service over the years: Theresa Brown, Virginia Carroll, Beverly Ford, Ernell Graham, Shirley Grier, Nobel Harris, Velma Lawson, Alyce Luck, Sandra Makel, Gerald Palm.
Sonja (Dee) Brown-Jenkins​
A retired insurance professional, Sonja is a member of Frederick County Alumnae Chapter, Delta Sigma Theta Sorority, Inc., and the Frederick Faith Striders. A native of Frederick, she joined AARCH Society in 2018 to learn about local Black history and now leads the Society's Historic Walking Tours around All Saints Street. She holds a master's degree in theological studies from Liberty University and a bachelor's degree from the University of Maryland Baltimore County.
David Butler, Jr.
A solution architect for Leido, Inc., where he has worked for 21 years, David is a software engineer and a security engineer. He loves helping people understand technology and creating systems using off-the-shelf components to do completely new things. An athlete, David played defensive tackle for Oxon Hill High School and for Bowie State University and graduated with a bachelor's degree in Mechanical Engineering from the University of Maryland, College Park.
Catherine Canning
A marketing, communications, and public relations strategy and implementation specialist for Asbury Communities, Inc. in Frederick. Cathy is a skilled storyteller with careers in journalism and education. She currently leads the AARCH Communications Committee and enjoys working to enhance organizations' brand visibility. Locally, Cathy has volunteered with Blessings in a Backpack, Heritage Frederick, Meals on Wheels, and the PTSA. She joined the AARCH Society board in 2022. She holds a master s degree in Education from Towson University and a bachelor's degree in History from St. Mary 's College of Maryland.
Rose Chaney
A founding member of AARCH Society, Rose is a graduate of Morgan State University and a retired Art teacher (34 years) for Frederick County Public Schools. Her currently community involvement includes: board member of I Believe in Me, Inc.; member of Frederick County Equity and Inclusion Team, a fifty-seven-year member of Alpha Kappa Alpha Sorority, Inc. and Charter member of Chi Theta Omega Frederick Chapter; long time member of Frederick Club of Negro Business & Professional Women's Club; and a member of Frederick Art Club. Rose is a life-long member and an administrator at Asbury United Methodist Church, where she serves on many ministries. She was the Editorial Assistant for the County Globe Newspaper and a former board member of the Religious Coalition For Emergency Needs. She now serves as co-coordinator for their Christmas Adoption Program.
Kavonté Duckett
The Director of the Alan P. Linton Jr. Emergency Shelter, Kavonté is also employed with the Gary L. Rollins Funeral Home. Active in the Frederick Community, he is a member of Improved, Benevolent, Protective Order of Elks of the World (IBPOEW), Mountain City Lodge # 382, and previously served on Frederick County Human Relation Commission, Eliminating the Achievement Gap, I Believe in Me Inc. board of directors and as past president of the Young Democrats of Frederick County. He graduated from Frederick Community College, where he served as President of the Student Government Association and as Student Representative on the Presidential Search Committee.
Tiana Haile
The Community Engagement Coordinator of the Public Affairs Department of Frederick County Public Schools, Tiana is passionate about working to address the disparities affecting communities of color. She completed Leadership Frederick County in 2015 and is affiliated with the Chesapeake Chapter of National School Public Relations Association and serves on the Executive Board of Frederick County Alumnae Chapter, Delta Sigma Theta Sorority, Inc., participating in many of the chapter's community initiatives. She joined the AARCH Society board in 2022. Tiana is a graduate of the University of Wisconsin with professional training in Project Management.
Gary Rollins
CEO of the Gary L. Rollins Funeral Home, soon to be the Rollins Life Celebration Center, Gary was awarded Best Business and Best Businessman by Blackfrederick.com for several years. He taught embalming at Catonsville Community College (now CCBC at Catonsville) for 17 years and served as the President of the Funeral Directors and Morticians Association of Maryland for two years. He served with the Community Foundation of Frederick County, the Nymeo Federal Credit Union Board of Directors, the Road Knights Car Club, Mountain City Lodge IBPOE #382 and the National Funeral Directors Association Board of Directors. He joined the AARCH Society board in 2022.
Gayon Sampson​
The Senior Advisor to the Mayor of the City of Frederick, Gayon previously served as community outreach advisor in the Office of Government and Community Affairs at Johns Hopkins University & School of Medicine. Gayon has worked for the Greater Baltimore Committee, on Capitol Hill, and for the Maryland General Assembly. Gayon was appointed by Governor Martin O'Malley to the P-20 Leadership Council and the Maryland State Board of Education. Gayon is a member of the XiXi Lambda Chapter of Alpha Phi Alpha Fraternity, Inc., Francis Scott Key Post 11 Sons of the American Legion, and is a former President of the Young Democrats. He holds a master's degree in Public Administration from the University of Maryland and a bachelor's degree in Political Science from Towson University.
Terry Scott
An Associate professor of History and Chair of the History Department at Hood College, Terry served as the Chair of Hood's African American Advisory Board. Terry is a Fellow with Common Power, a civic engagement organization. She is the founder of Community Ambassadors Mentoring Program and has delivered lectures on implicit bias and racism for staff at Frederick County Public Schools, where she is creating a high school course on African American Studies. She has dedicated her career to making sure the rich history of African Americans is accessible to all. Terry is the author of three books and conducts trips throughout the South exploring the history of the modern Civil Rights Movement. Before joining the AARCH Society board in 2022, she supervised Hood student interns as they processed a portion of the Society's collections. She holds a PhD in History from the University of Chicago.
Alyssa Watson
A junior IP paralegal at McBee, Moore & Vanik IP, LLC, Alyssa volunteers with the Catoctin Furnace Historical Society and was a volunteer with the AARCH Society before joining the board in 2022. Alyssa holds a bachelor's degree in History and a concentration in African American History from Hood College, where she was the Secretary of the Black Student Union and a member of Phi Alpha Theta, the Honor Society within the discipline of history.
Theresa R. Williams-Harrison
President and Founder of GEORGE STREET Services, Inc., Theresa has more than 25 years' experience as a successful entrepreneur and a long history building effective coalitions within program teams, technology, management, and community. She is the Founder of Just A Kind Note, Intl and serves with Hood College Board of Trustees; Trust Bank, Advisory Board; Woman to Woman Mentoring Board, and Frederick County Alumnae Chapter, Delta Sigma Theta Sorority, Inc. She is the author of Business Success Secrets: Entrepreneurial Thinking That Works; Yes, You ARE Able!, and I Am Able Workbook. Teresa has a master s degree in Technical Communications and a bachelor's degree in Business Administration from Frostburg State University.
Niya Yeboah
An analytical chemist, Niya is a senior Scientist, Reference Standards, with the United States Pharmacopeial Convention, where she has worked since 2004. A Mt. Airy resident, Niya is active in community service, and has served as President of the Western Maryland Chapter of Jack and Jill of America, Inc., in addition to holding positions on numerous Board Committees.
Mary Harris, Honorary Board Member
A founding member of AARCH Society, Mary is a retired teacher for the Maryland School for the Deaf. She has a passion for researching, displaying, and presenting the African American history of Frederick County, including her family's six-generation history of agriculture in the Adamstown area of Frederick County. She authored a book detailing the African American history of educating the deaf community in Maryland. Unable to continue as an active board member, Mary was appointed an honorary board member in 2022 in recognition and honor of her decades-long commitment to AARCH Society. She is a graduate of Bowie State University.